IFFT Postponed until June 2021
April 14, 2020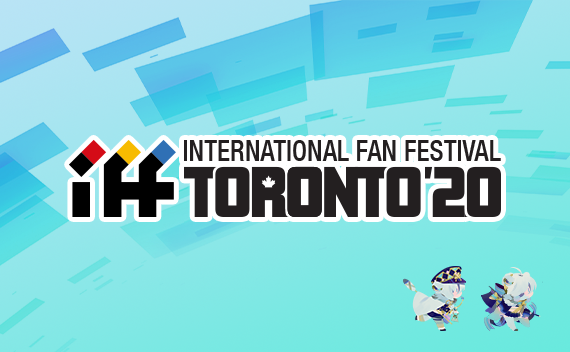 A message from our board of directors:
It was recently announced that the City of Toronto is cancelling all permits for major city-led events and festivals through until June 30th 2020.
"Due to the COVID-19 pandemic, the City of Toronto is cancelling all city-led major events, festivals, conferences and cultural programs, and is also cancelling all city permits for major events organized by external groups at civic centres and squares, parks, public spaces (including road closures), city-operated museums and cultural centres "
In alignment with the goal of slowing the spread of COVID-19 and saving lives, we wish to do our part too and have made the decision to postpone International Fan Festival Toronto (IFFT) 2020.
This decision was made after several meetings and consideration with all parties involved. We thank everyone who has been looking forward to IFFT2020 for their patience and understanding as we came to this outcome.
Organizing a convention takes a small village – including the commitment, dedication and talent of our terrific staff, volunteers, guests, exhibitors, vendors, and partners. We would like to send out a heartfelt thank you to everyone that already committed to making IFFT2020 an amazing year and hope to carry those efforts passionately into IFFT2021.

What happens to current ticket holders?

All pre-purchased tickets will automatically be rolled over to our next event, tentatively scheduled for third week of June 2021 (Father's day weekend). Current ticket holders will not have to take any action.
We ask attendees to consider allowing your registrations to roll over in order to keep our convention financially sustainable. However, we will honour any refund requests submitted to us by using THIS FORM by October 1, 2020*. Any requests submitted after this date cannot be accepted and will automatically roll over to IFFT2021

*service fees are non-refundable
What happens to Exhibitors (Artists & Vendors)?
All confirmed Artists and Vendors will be automatically rolled over to our next event in 2021 – no action is needed.
For Artists or Vendors that wish to refund their purchases, please fill out this form HERE until October 1, 2020*. After this deadline, our normal refund policy will be in effect.
Waitlisted artists will be reset and can apply after August 1st 2020 using this form HERE.
*service fees are non-refundable
What happens to the participants/submissions for IFFT 2020 Programming?
Participants/submissions for IFFT 2020 programming, such as panelists, performers, contestants, will be contacted in the upcoming weeks by our team regarding the status of their panel/submission.
---
For every attendee and exhibitor that is able to transfer their booth or ticket to 2021, we would like to show our appreciation by offering you a $15 coupon (one per individual / company). This coupon will be available at pickup with your badge for IFFT2021. The terms and conditions of the coupon are as follows:
valid for use on all IFFT Merchandise
valid for use at exhibitor rebooking
valid for use towards preregistration for IFFT2022
coupon holds no cash value
expires December 30th, 2021
Last but not least, thank you to all of our amazing fans for your patience and understanding throughout this difficult time! IFFT is a convention that was born out of the sheer passion of fans wanting to give back to anime and Japanese culture. We truly find joy in putting this event together and aspire to show our gratitude through quality content, unique ideas, constant improvement, and never-ending care.

Please stay safe and healthy – we hope to see you soon!
For any concerns or questions not already covered, please feel free to email us here: toronto@ifanfes.com
Thank you


Tweets by animetoronto_ca