SPECIAL SCREENING: Fate/stay night [Heaven's Feel] II. lost butterfly
March 30, 2019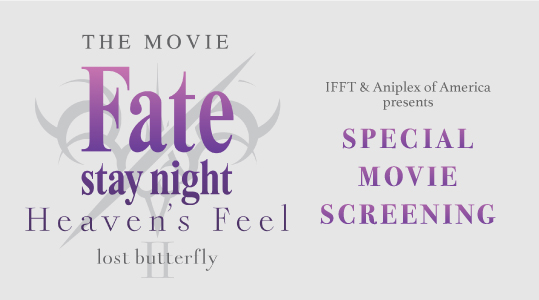 IFF Toronto is proud to announce the special screening of… Fate/stay night [Heaven's Feel] II. lost butterfly !
There will be exclusive gifts from Aniplex of America, available for the audience members. While supplies last
When: Friday, April 19th, 9:30PM
Runtime: 117min
Did you miss the screenings of the latest Fate/stay night film in theatres this March? Or do you want to watch the film once more before meeting our special voice actor guests at IFF Toronto? Don't worry! We've got you covered.
This will be a very special screening of Fate/stay night [Heaven's Feel] II. lost butterfly; we will be welcoming a representative from Aniplex of America who will be giving audiences an introduction to the film, as well as distributing a special gift for audience members (while supplies last).
The film is suggested for audiences 16 years of age and over due to graphic content (sexual themes, violence).
Tweets by animetoronto_ca